text.skipToContent
text.skipToNavigation
Added to Your Shopping Cart
Certificate of Analysis
Are you looking for...
You might be interested in...
Type in Product name, Keyword or Catalog number to see suggestions.
Save to list
Save to list
Streamlined Generation of AAV Using Chemically-Defined Media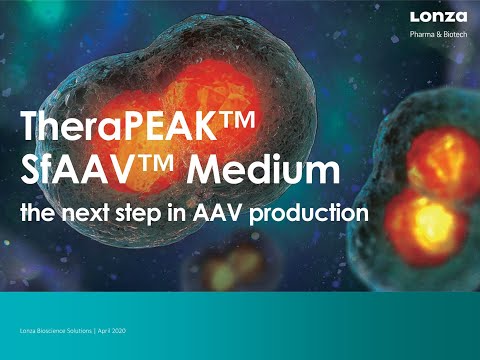 TheraPEAK™ SfAAV™ Medium – the next step in AAV production
Learn how the TheraPEAK™ SfAAV™ Medium can enhance your AAV production and aid you in bringing safe and life-saving gene therapies to patients faster.
Watch this 15-minute webinar and learn how Lonza's new TheraPEAKTM SfAAVTM Medium can help to streamline and accelerate the production of AAV in Sf9 cells.
The data presented by Senior Scientist Jerome Jacques shows how this new chemically-defined medium allows for increased AAV production, consistent cell growth and reduced downstream purification, streamlining process scale-up for the commercialization of gene therapies.
Topics discussed
Are you interested to learn more about the medium and its performance?
Would you like to test it?
Contact us