text.skipToContent
text.skipToNavigation
Added to Your Shopping Cart
Certificate of Analysis
Are you looking for...
You might be interested in...
Type in Product name, Keyword or Catalog number to see suggestions.
Save to list
Save to list
CRISPR is Editing its Way Toward Cell and Gene Therapy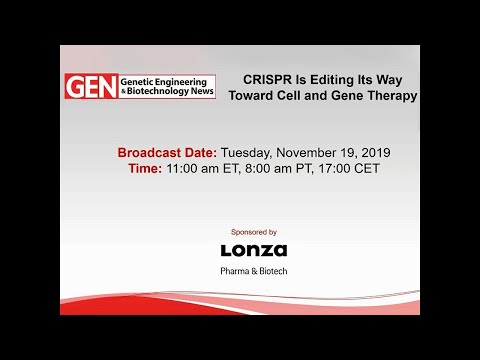 CRISPR is Editing its Way Toward Cell and Gene Therapy
Learn about CRISPR from discovery to cell and gene therapies, covering topics such as finding therapeutic pathways or process development considerations for bringing gene edited therapies to the clinic.
Hosted by Gen, produced with support from Lonza
Sky's the limit! A phrase that perfectly encapsulates the therapeutic potential of gene editing and encompasses how investigators envision the future of this technology. As clinical trials using genome-editing tools like CRISPR-Cas9 continue to ramp-up, advances in both functional genomic tools and primary model systems are essential for meaningful translation of network models into actionable data. Optimization of high-throughput platforms employing CRISPR-Cas9 gene editing is critical to pushing advanced drug discovery efforts forward and accelerating target validation for pharmaceutical and cell-based therapies. Interestingly, this technology is also emerging to be key component for various cell and gene therapies, opening up even more therapeutic potential for researchers and clinicians.
In this GEN webinar, we will hear about a high-throughput platform for CRISPR-Cas9 gene editing in primary human cells for the robust functional interrogation of complex biological processes and disease states. Specifically, we will learn how this platform was applied to primary human CD4+ T cells to analyze the role of host factors in HIV replication and pathogenesis. Finally, we will find out about the clinical applications of genome editing technologies in various cell and gene therapies and how these applications can be made clinically/commercially available. We also learn about the clinically relevant scale of gene editing, platforms and approaches, process development considerations for bringing these gene edited therapies to clinic.
Panelists:
Judd Hultquist, PhD
Assistant Professor of Medicine
Northwestern University
Ravi Vyzasatya
Senior Manager, Process Development
Lonza Cell and Gene Technologies
Important note: The user bears the sole responsibility for determining the existence of any third party rights, as well as obtaining any necessary licenses.