text.skipToContent
text.skipToNavigation
Added to Your Shopping Cart
Certificate of Analysis
Are you looking for...
You might be interested in...
Type in Product name, Keyword or Catalog number to see suggestions.
Save to list
Save to list
Cell Culture Media: Why go Serum-free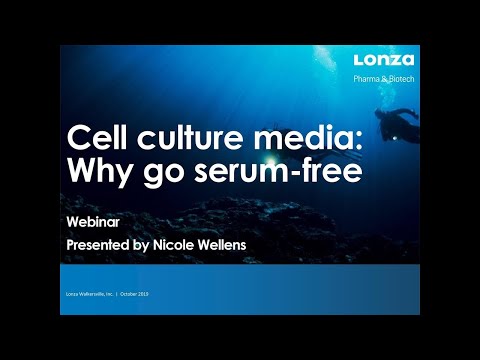 Cell Culture Media: Why go Serum-free
In this webinar we discuss the negative effects of culturing cells in serum and where you will learn about the advantages of switching to serum-free cell culturing.
In cell biology, cells are commonly grown in medium supplemented with serum. Serum is a highly variable, undefined product which impacts the reliability, reproducibility and consistency of scientific results. In order to eliminate these unwanted influences, more and more scientists consider serum-free cell culturing.
Join this webinar to learn about the concerns regarding the use of serum, and find out about viable alternatives.
Nicole Wellens, Lonza Cell Culture Specialist, will discuss the following topics:
Scientific concerns about cell culturing with serum
The case for serum-free cell culture
How to switch from serum to serum-free culturing with little effort
The presentation lasts 45 minutes and is followed by a live Q&A session.