text.skipToContent
text.skipToNavigation
Added to Your Shopping Cart
Certificate of Analysis
Are you looking for...
You might be interested in...
Type in Product name, Keyword or Catalog number to see suggestions.
Save to list
Save to list
Cell Culture Monitoring with CytoSMARTTM System
Discontinuation notice
: This product has been discontinued as of 31 Dec, 2019. Please visit
Cytosmart Technologies BV
for purchase and continued support.
Cell Culture Monitoring – a Widely Underestimated Task
Scientists routinely use standard microscopes to inspect cell cultures for performance, cell growth and culture contamination. This method does provide a certain level of confidence as to the quality of the cell culture. However, is this enough to produce reproducible, reliable and relevant data? According to the guidelines for Good Cell Culture Practice (GCCP) there is much more to the maintenance of a high standard in cell culture necessary to ensure reproducibility, credibility, acceptance, and proper application of any results produced1.
Reference:
1) Gerhard Gstraunthaler (2010) Altex 27, Special Issue; 141-146
Different aspects of cell culture monitoring
Good Cell Culture Practice requires that reports of cell culture experiments include a basic and detailed description of the cultured cells, describing the origin and mode of culture initiation, the source and the morphology of the cell culture and its differentiation state. Morphology, gene expression, growth rates, viability, and adherence to matrices can all be used to describe the phenotype and differentiation stage of a cell line. Using time-lapse microscopy as well as automatic growth curve recording can help document morphology and the growth and motility behaviour of a cell culture. Finally, cell lines should be identified and authenticated using karyotyping, DNA analysis, fingerprinting or tests for cross-contamination.
The composition of culture media, the nature of culture vessels and culture matrices, and the subculture procedure are known to have a significant impact on cell culture and should be standardized wherever possible. Defining standard operating procedures (SOPs) for cell culture helps to reduce the variables affecting cell culture performance and assay results. Subculture details, such as culture confluency at the time of splitting, seeding density and total number of passages, should be precisely defined.
However, even a standardized cell culture experiences variation as a biological system. For example, primary cell systems such as patient derived materials may vary widely in proliferation behavior. Additionally, cell culture performance is highly user dependent and requires a certain degree of expertise to achieve consistency in cell cultures. Regardless of these challenges, standardized cell culture is of great importance as the condition of a cell culture may have a significant influence on the downstream experiment results obtained using the cultured cells.
Microscopes, small enough to fit inside a cell culture incubator and at the same time offering live cell imaging and time-lapse recording functionalities can help monitoring cell cultures. Automatic cell confluency determination provided by some microscopes can reduce operator dependent variations in cell culture handling. Unfortunately, most microscopes are not suited to be operated inside an incubator, or they are too big to be used for or too valuable to be blocked by cell culture monitoring applications.
The CytoSMARTTM System for Cell Culture Monitoring
The CytoSMART
TM
System is a technological advancement aimed at making cell culture more convenient. The system consists of a mini-microscope, approximately the size of a cell culture plate that fits into any incubator, and a tablet for external operation and monitoring thus eliminating the need to disturb your cells in their defined culture conditions. With the CytoSMART
TM
System, you can visually monitor your cell cultures in real-time from any location with an internet connection using your computer, smartphone or tablet. This enables you, to view your cell culture from your office and over the weekend or at nights from home. In addition, cell confluency and temperature are recorded. Both data sets can be viewed on your project page or downloaded as .csv files for further processing in Excel. Alerts can be set for confluency, meaning you will receive an automatic notification once your cell culture has reached a certain confluency and is ready for splitting or experiments such as
transfection
.
Discontinuation notice
: This product has been discontinued as of 31 Dec, 2019. Please visit
Cytosmart Technologies BV
for purchase and continued support.
The system can be used as part of many applications, such as unbiased confluency determination, scratch assays and cell counting.
Application Examples for the CytoSMARTTM Cell Culture Monitoring System
Unbiased Determination of Cell Culture Confluency
One way to obtain a more standardized cell culture is to use cells for any downstream assay at consistent confluency. However, the determination of cell confluency is very user dependent. Often different users will judge the same cell culture to be have varying confluency, which poses large variation into any downstream assay. When well-versed cell biologists in our labs were asked to determine the confluency of a cell culture, we obtained results ranging from 50-70%. The CytoSMARTTM System overcomes this issue in offering a user-independent analysis of the cell confluency which is recorded in the CytoSMARTTM Project Page (here referred to as "cell coverage"). See also the images taken with the CytoSMARTTM Lux 10X System after 40% and 70% confluency in the image gallery.
In addition, automatic alerts can be set so that the researcher receives an email notification once the cell culture has reached a chosen confluency, thus offering a very simple yet effective tool to easily standardize cell culture.
Effects of Different Cell Culture Confluencies on Transfection Efficiency
With 15 years of transfection experience using the NucleofectorTM Technology, Lonza's R&D experts know that the confluency of a cell culture can have a great effect on transfection efficiencies. This is one of the reasons why each NucleofectorTM Optimized Protocol contains a recommendation at which confluency cells should be harvested for transfection. Variations in transfection efficiency may affect the results of any downstream assay significantly, e.g. with higher standard deviations of the assay, possibly resulting in repeated experiments to obtain an assay result with an acceptable CV.
Time-lapse Microscopy: Video Recording of Cell Cultures
Watching time-lapse videos of cell cultures can be fascinating! Compared to a still image from a classical bench top microscope, observing cultured cells moving, dividing, and interacting with each other amazes even experienced scientists.
In addition to these fascinating images, time-lapse microscopy provides so many important details about cell cultures. According to the Good Cell Culture Practice guidelines outlined above, a basic and detailed description of the cultured cells in experimental reports is mandatory. Time-lapse microscopy helps to better characterize cell cultures. It provides information on cell proliferation, morphology evolution, long-period cytotoxicity, cell variability, cell-cell interaction, cell-substrate interaction, motility and chemotaxis. Changes in cell population over time can be observed by comparing images recorded at different time points during cell culture. Furthermore, video recordings of different cell populations can be compared to study the impact of the differentiating condition, e.g. wild type versus mutant variant of a cell line, different donors of a primary cell type or the same cell type cultured in two different media.
Lonza News with Leigh Eastwood show what is really happening in your incubator and how suspicious cell conduct can be avoided!
The CytoSMARTTM System. How it works.
Setting up a CytoSMARTTM Live Recording requires minimal training and you'll be up and running in minutes. Learn how easy-to-use a CytoSMARTTM System is.
Growth Curve Recording with the CytoSMARTTM System
The CytoSMARTTM System determines the growth of a cell culture in real time. While the recording is ongoing, subsequent images are analyzed for cell coverage and the resulting graph is displayed on the CytoSMARTTM Project Page of the respective recording. Growth curves and doubling times for any cell type in culture can be recorded and documented. This can be particularly useful during the characterization of new cell lines or cells from new donors. The confluency of the cell culture can be monitored and compared to the expected proliferation rate.
The growth curve recorded by the CytoSMARTTM System provides the user with the ability to detect any deviation from the expected growth behavior of the cell culture, and enables quick corrective actions, e.g. medium change or replacement of current batch by new one.
The CytoSMARTTM Sytem offers the option to set automatic alerts when the desired confluency is reached. Email alerts are sent by email and notify users that the desired confluency is reached.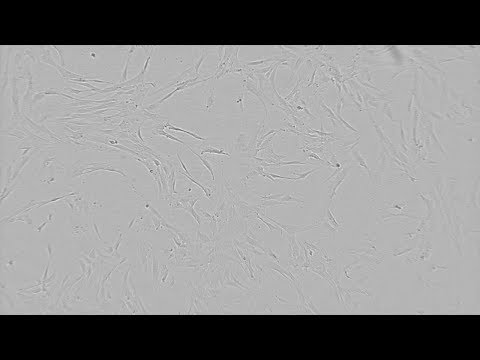 This video of human astrocytes, recorded with the CytoSMARTTM 2 System, shows an untypical proliferation rate of NHAs. Corrective actions need to be taken.
Growth Curve of NHA Culture
The growth curve of the same Normal Human Astrocyte culture recorded with the CytoSMARTTM 2 System indicates a flat growth curve revealing a nontypical proliferation behaviour of NHAs. Corrective actions need to be taken.
Standardization of Subculturing Monolayer Cells
Subculturing monolayer cultures is a routine task in every cell culture lab. To minimize the impact on cell culture quality and assay outcome, the procedure should be standardized wherever possible. While some variables,such as culture medium, dissociation agent or cell culture vessel are easy to mitigate, the time point of subculture and the dissociation itself remain user dependent.
The CyoSMARTTM System with its growth curve recording and automatic alert function enables you to always subculture your cells at the same cell density and avoid subjective determination of confluency. Cells should be in log phase (exponential growth phase) when subcultured, ideally at 70 to 80% confluency.
The detachment of the cells from the cell culture vessel is one of the most important steps in the subculturing process and is, unfortunately hard to standardize. When using an enzymatic dissociation agent, the temperature and the freshness have an important impact on the enzymatic activity of the enzyme and thus on the detachment. Ideally the enzyme should be aliquoted and for each subculture a fresh aliquot should be used. Depending on how strongly cells attach to their culture vessel surface, the dissociation can be performed at room temperature or in an incubator. In any case, it is important to monitor the dissociation under a microscope to avoid damage to the cells. This observation is easily done when cells are incubated with the enzyme at room temperature. Use of the CytoSMARTTM System means that close observation is possible even in the incubator. Put your cell culture with the enzymatic agent on the CytoSMARTTM System in the incubator and observe the cells lifting from the culture vessel from the tablet. The ideal time point to stop the enzymatic activity by adding serum containing media, PBS/BSA, Trypsin inhibitor, or Trypsin Neutralization Solution is when the cells are rounded up and only a few cells start to float.
Hypoxic Culture of Cells Monitored with CytoSMARTTM System
Hypoxic Culture Conditions Mimic In Vivo Environment of Cells
The use of hypoxic, i.e. low oxygen, culture conditions for cell cultures is becoming more common as a means to more closely mimic in vivo conditions. Whereas physiological in vivo oxygen concentrations can range from 1% to 15%, most cell cultures are maintained in normal atmosphere oxygen conditions (~ 21% O2). However, the value of O2 control in addition to CO2 and temperature control has shown to e.g. heavily influence gene expression profiles and phenotypic changes. Hence hypoxic/ normoxic culture is increasingly applied in stem cell and cancer research, in toxicological studies, and in clinical-grade stem cell production.
While hypoxic conditions can easily be established using specialized incubators, the monitoring of cell cultures under hypoxic conditions has been extremely restricted until now. The CytoSMARTTM System overcomes this issue with its ability to allow continuous online monitoring of a cell culture under hypoxic culture conditions. With its small size (133 x 90 x 100 mm), the CytoSMARTTM Device fits into virtually any specialized incubator. Since the cell culture can be viewed via the CytoSMARTTM Cloud Solution, the monitoring of hypoxic or normoxic cultures becomes completely independent of the presence of the researcher in the lab.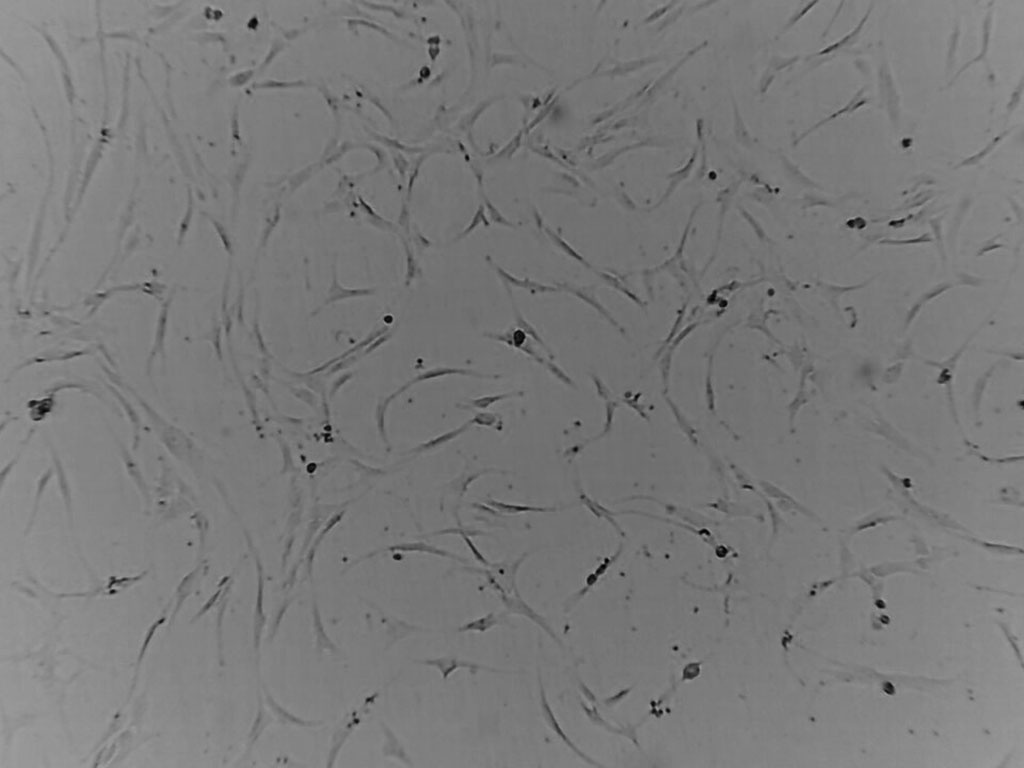 Hypoxic Culture in Stem Cell Applications
Hypoxic culture conditions are thought to support stem cell performance in general. The use of physiologically relevant oxygen levels in stem cell culture is beneficial, for example, for the generation of induced pluripotent stem cells (iPSC) and in mesenchymal stem cell (MSC) culture. iPSCs have the ability to self-renew and generate any cell type in the human body. Therefore, they have the potential to produce an infinite quantity of cells for different applications, such as regenerative medicine, disease modeling and drug development. Many efforts have been made to find ways to facilitate the reprogramming process as well as the maintenance of iPSCs. Culturing iPSCs in undisturbed hypoxic conditions has been found to be one of the options that can elicit significant improvements to stem cell culture.
Image of hMSCs Cultured under Hypoxic Conditions
The image of Human Mesenchymal Stem Cells cultured in 5 % O2 was taken with the CytoSMARTTM Lux 10X Device. (Image courtesy of A. Henn, BioSpherix)
Enhanced iPSC generation, reduced spontaneous differentiation, and enhanced clonality of human embryonic stem cells have been demonstrated to be a result of hypoxia-induced stabilization of transcription factors of the Hypoxia-inducible factor (HIF) family.
The use of human mesenchymal stem cells (hMSCs) as a possible therapeutic tool in regenerative medicine has been widely assessed. Poor growth kinetics, early senescence, and genetic instability during in vitro expansion are among the major challenges for MSC-based regenerative therapies. By applying physiological oxygen levels to the cell culture, major improvements have been achieved, such as modulated angiogenic potential of MSCs, reduced senescence and increased proliferation levels1.
Furthermore, the quantity and quality of MSCs secreted bioactive molecules (called MSC secretome) change under hypoxic conditions. The number of different proteins expressed in hMSCs cultured under hypoxic conditions is much higher (see graph to the left), and secreted proteins that are identical between hypoxic and room air oxygen conditions show significantly different expression levels. These findings support why the MSC secretome is being considered a critical element for therapeutic efficacy of hMSC.
Analysis of human umbilical cord Wharton Jelly-derived hMSCs conditioned medium (hWJ-MSC CM): More proteins were identified in the hWJ-MSC CM collected from hypoxic conditions (166 proteins) when compared to the normal atmospheric oxygen conditions hWJ-MSC CM (104 proteins), in which 81 were common to the two conditions1.
Hypoxic Culture in Cancer Research
Low O2 concentration, or hypoxia, often occurs in the center of solid tumors where the presence and formation of blood vessels is often abnormal or limited. Hence low oxygen conditions play a key role in regulating cancer cell metabolism and the deeper understanding of this correlation may advance our understanding of cancer formation and the development of potential new therapies.
Application example of hypoxic cultures in cancer research:
Reaction of normoxic vs. hypoxic colorectal cancer cell lines against the cancer drug AW464 (NSC 706704; a novel benzothiazole substituted quinol compound) showed that hypoxic cells are more resistant to the drug. Comparisons to normal cells such as endothelial cells or fibroblasts (both from Lonza) revealed drug potency against endothelial cells but not fibroblasts, suggesting possible anti-angiogenic activity2.
References:
1. Teixeira FG, Panchalingam KM, Anjo SI, Manadas B, Pereira R, Sousa N, António J. Salgado AJ, Behie LA
2. Mukherjee A, Westwell AD, Bradshaw TD, Stevens MFG, Carmichael J, Martin SG. (2005) Br J Cancer. 92: 350
Remote Cell Culture Monitoring under GMP Conditions
Now that cell therapy and immunotherapy approaches are making their way from the bench into patients, more and more cells are cultured under good manufacturing conditions (GMP) in dedicated GMP suites. Each time a scientist enters the suite, a complex gowning routine has to be followed including hair net, shoe covers, gloves, mask, coverall, boot covers, googles, and sterile gloves. Under these circumstances, live cell monitoring is costly and quite time consuming; there is no option for researchers to go take a quick glance at their cells.
As a cloud-based system, the CytoSMARTTM System for live cell imaging and monitoring enables you to view your cell culture from any browser-capable system, such as a computer, laptop, smartphone or personal tablet device. Moreover, you can set automatic alerts for cell confluence - meaning you only need to physically tend to your cells once they have reached a certain confluency.
Although the CytoSMARTTM System is not compliant to GMP regulations (e.g. no 21 CFR Part 11 compliance), using it can reduce the number of times cell cultures need to be manually observed.
The same advantage applies to biosafety level (BSL) 3 & 4 laboratories, labs that allow diagnostic work and research on pathogens which can cause severe or fatal diseases. Working in these BSL 3 or 4 labs is extremely cumbersome and costly. In addition to the gowning, researchers also need to disinfect themselves when exiting the lab. Thus, using the remote monitoring feature of the CytpoSMARTTM System not only reduces costs (costs of gowning equipment) but also increases the safety of the employees.
Cell Counting with the CytoSMARTTM System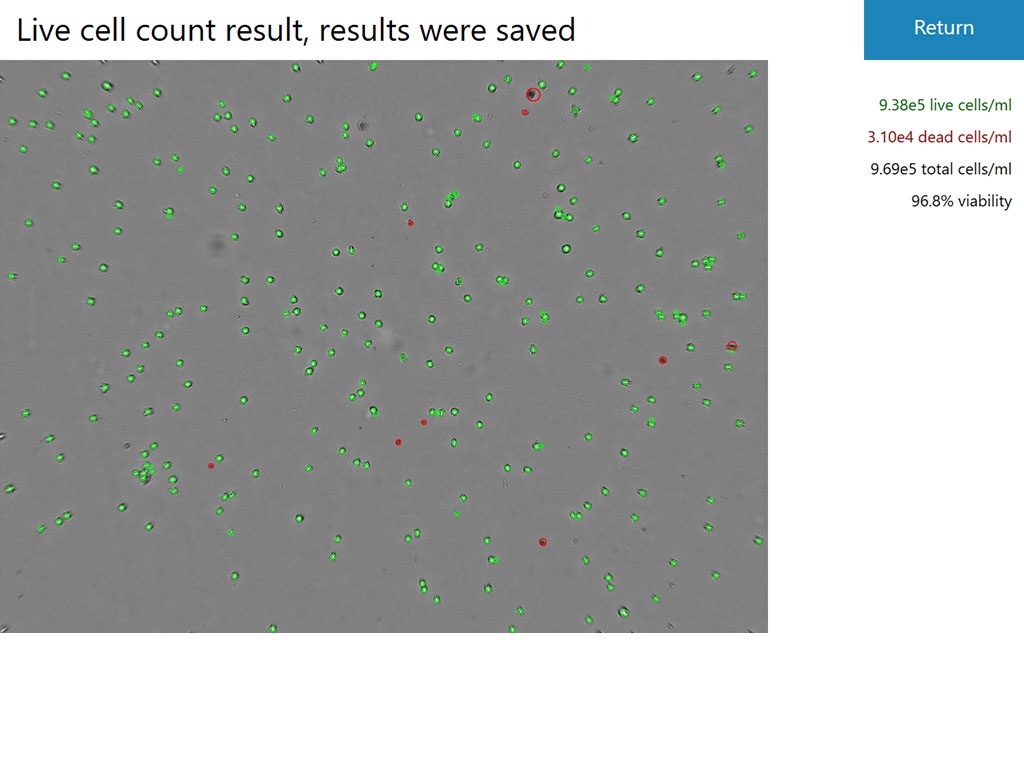 The new CytoSMARTTM System has been developed for live cell imaging and monitoring. In addition, the CytoSMARTTM System offers a quick and easy-to-use cell counting feature using a standard hemocytometer. Within seconds, the CytoSMARTTM App determines the exact number of cells in your culture. If cells are stained with Trypan blue, the number of live cells is detected.