text.skipToContent
text.skipToNavigation
Added to Your Shopping Cart
Certificate of Analysis
Are you looking for...
You might be interested in...
Type in Product name, Keyword or Catalog number to see suggestions.
Liver Cells for ADME & Toxicology Studies

Interaction Qualified Hepatocytes

Advancing in vitro drug interaction testing to the next level
Liver Cells for ADME & Toxicology Studies
Save to list
Save to list
Liver Cells for ADME & Toxicology Studies
Introduction to Use of Primary Liver Cells for In Vitro Cell Models
The liver plays a critical role in vertebrate biology. It has many important metabolic functions, including the regulation of glucose and cholesterol metabolism, the production of plasma proteins including clotting factors, and the detoxification of endogenous and exogenous compounds. The liver also produces various hormones involved in insulin regulation, blood pressure, and blood lipid levels. Because of the many physiological processes that depend on the liver, a fundamental understanding of liver biology and the ability to address these at the benchtop is essential for researchers involved in creating new, life-saving medicines.
Schematic of multiple liver functions
The liver has many physiological functions including cholesterol and amino acid synthesis as well as detoxification of various small molecules.
Figure 2 is a schematic that shows the procedure for the isolation of primary human hepatocytes, and their cellular morphology in suspension and on plates. The functionality of primary hepatocytes in culture is very similar to that of in vivo hepatocytes, as indicated by albumin production, urea production, and a variety of metabolic enzyme activities.
Hepatocyte isolations also in the ability to obtain a mixed population of all the other major cell types from the liver. From this mixture, enrichment of Kupffer, stellate, and endothelial cells can be performed to enable the development of complex tissue-like models of the liver in vitro. The following sections detail some of the major applications for hepatocytes and other liver cells to support new and improved drug development efforts.
Application - Drug Metabolism and Drug-Drug Interaction Studies
A second major application of plated hepatocytes is the determination of the inhibition of the transporter-mediated efflux of a substance by a particular drug. Our Interaction Qualified Hepatocytes (HUCPI) are therefore also qualified for transporter function. By characterizing for both enzyme induction and transporter function, we enable use of the same donor hepatocyte batch for different types of DDI studies.
Finally, the pharmaceutical discovery of drugs that are more slowly metabolized has become increasingly desirable. Slower drug metabolism translates into longer-lasting efficacious levels of a drug, so a patient can take the drug less frequently, which can increase compliance and decrease production costs. However, suspension hepatocytes are not viable or metabolically active long enough to allow the accurate measurement of the basic metabolic properties of such drugs. Since plated hepatocytes maintain their metabolic activity much longer than cells in suspension, researchers use them for assays that have a duration of four hours or longer. We qualify and report basal metabolism and clearance rates for several P450 enzymes in both of our plateable hepatocyte products, HUCPG and HUCPI.
1 Clearance refers to the rate at which a drug is cleared from the system.
Suspension Metabolism Assay
Metabolism of drugs can be measured in hepatocytes while cells are still in suspension, either directly after isolation or after recovery of cryopreserved hepatocytes. Suspension metabolism assays include: metabolic profiling, metabolite identification, and metabolic stability. Suspension hepatocytes are also used to determine drug uptake and kinetics. A common approach known as the oil-spin technique measures radio-labeled drug concentrations inside the cell following a very short incubation period. These routine metabolism and uptake assays using hepatocytes in suspension are typically applied to large numbers of molecules early in development to help prioritize chemicals for further development.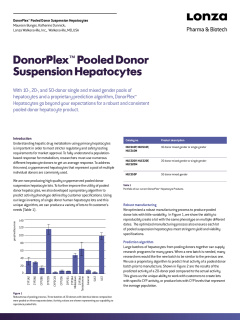 DonorPlexTM Pooled Donor Suspension Hepatocytes
10-, 20-, and 50-donor single and mixed gender pools of hepatocytes and a proprietary prediction algorithm, DonorPlexTM Hepatocytes go beyond your expectations for a robust and consistent pooled donor hepatocyte product.
Description
Hepatocyte Format
Catalog Numbers
Metabolic Profiling
Determines the chemical class of a drug metabolite
Rapid Clearance1: Suspension
Low Clearance: Plated
Metabolite identification
Determines the specific molecular identity of a drug metabolite
Rapid Clearance: Suspension
Low Clearance: Plated
Metabolic Stability
Determines the rate of transformation of a parent drug compound to metabolite(s)
Rapid Clearance: Suspension
Low Clearance: Plated
Species Comparison
Compares the metabolic profile produced by human hepatocytes and multiple species of animal hepatocytes to determine which best correlates with human in vitro profiles
Rapid Clearance: Suspension
Low Clearance: Plated
Drug uptake
Determines the kinetics of drug transport into the cell
Rapid Clearance: Suspension
Low Clearance: Plated
Enzyme Induction
Determines the risk of a drug-drug interaction between the compound of interest and other common drugs (or drug-metabolizing enzymes)
Plated
Drug transport kinetics
Determines the degree of active uptake and the rates of uptake and efflux through membrane transporters
Plated
Cell Toxicity Models
Liver toxicity is a major cause of clinical trial failures and has played a significant role in the withdrawl of several drugs from the market. Evaluation of toxicity is performed throughout the drug development pipeline. However, for liver toxicity in particular, the models for detection early in the pipeline which are mostly animal-based fall short of meeting expectations. Increasingly, in vitro human models are being explored as an alternative in or to augment findings in animal models as a means to improve preclinical prediction of liver toxicity.
Building Complex Liver Toxicity Models
The key component of any human in vitro liver toxicity model is primary hepatocytes. Ideally, the hepatocyte culture needs to be robust and have decent longevity in culture to evaluate toxicity over time. Our plateable hepatocytes that are suitable for general applications or for drug drug interaction studies are qualified to maintain healthy monolayers for at least five days in culture systems. Many batches are also qualified to self-assemble into spheroids which can last up to 21 days in culture.
The ability now to create in vitro models that co-culture hepatocytes with Kupffer cells, the liver resident macrophage, can improve the ability to detect these complex toxicities early in development. Other new models such as co-cultures with stellate and liver endothelial cells, in both monolayer and 3D spheroid models, have been shown to increase the predictive power of cell culture models (9).
Humanized Mouse Models
An immunocompromised mouse model can be made to house a liver composed almost entirely of human liver cells. The purpose of creating such a model is to enable human-relevant liver pharmacokinetics and pharmacodynamics studies to be performed in an intact mouse model.These models can be used to re-create human specific liver toxicities in an in vivo environment, but are also used for modeling infectious diseases that impact the human liver. Hepatocytes used for making humanized mouse models should be plateable and of high quality, but don't necessarily need to be prequalified for drug-drug interaction studies. Lonza therefore recommends Human Cryopreserved Hepatocytes, Plateable, General Purpose cells (HUCPG).
Request more information to learn how primary hepatocytes can inform your toxicity testing and research.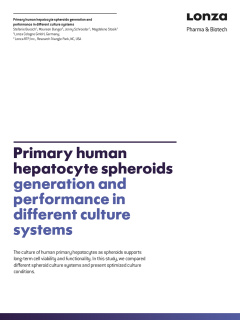 Hepatocyte Spheroid Formation White Paper
The culture of human primary hepatocytes as spheroids supports long-term cell viability and functionality. In this study, we compared different spheroid culture systems and present optimized culture conditions.
Hepatitis
Many varieties of the hepatitis virus cause inflammation of the liver, which can lead to severe illness or even death when left untreated. Millions of people are infected with hepatitis viruses worldwide and it remains a leading cause of hepatocellular carcinomas, especially in individuals born in the U.S.A. between 1945 and 1965. While cures have been developed for the deadliest variant, Hepatitis C (HCV), reinfection can occur because HCV is very prone to mutation. This tendency to mutate has also hindered the development of a HCV vaccine. While an effective vaccine is available for the more common Hepatitis B (HBV) virus, it still infects millions annually and causes illnesses ranging from flu-like symptoms to liver failure. HBV is a DNA virus that utilizes the nuclear machinery of the hepatocyte to replicate. Infection and subsequent replication can be modeled in primary human hepatocytes in culture, and has been used to develop large scale screening protocols for new drugs that attack the progression of the virions to the closed circular DNA, which eventually leads to inflammation and other symptoms. So far, HBV has eluded efforts to develop curative drugs. (4) For hepatitis studies in vitro, our hepatocytes prequalified to be plateable for 5 days in culture are ideal. These include the General Purpose (HUCPG), Interaction Qualified (HUCPI).
Malaria
Nearly half of the world's population lives in regions where inhabitants are at risk for malaria infection and more than 500,000 people worldwide die from the disease each year. Malaria is caused by a Plasmodium parasite, which has a life cycle that includes the human liver; specifically, the infection of hepatocytes. As shown in Figure 4, Plasmodium sporozoites undergo a major replication event in the hepatocyte before entering the next stage of the life cycle in the blood. Once the parasite is in the blood, the infected person begins to experience the symptoms associated with malaria; alternating chills and fever, fatigue, and others. The development of clinical interventions for the liver stage of the Plasmodium life cycle has become of interest, not only to prevent malaria symptoms, but also the spread of the parasite back to the mosquito, through the blood. For hepatitis studies in vitro, our hepatocytes prequalified to be plateable for 5 days in culture are ideal. These include the General Purpose (HUCPG), Induction Qualified (HUCPI).
Malaria parasite life cycle in hepatocytes
A human is infected with malaria when an infected female Anopheles mosquito bites and injects Plasmodium sporozoites into the bloodstream. The sporozoites quickly make their way to the liver, where they infect the hepatocytes. Over the next week or so, the sporozoites multiply asexually in the hepatocytes. No symptoms are apparent at this stage. After they are released from the liver, the merozoites invade the bloodstream where they infect the erythrocytes. Some merozoites replicate asexually in the erythrocytes and are released back into the bloodstream when the erythrocyte ruptures, causing the classical symptoms of malaria. However in other erythrocytes, instead of replicating asexually, the merozoites develop into gametocytes, the sexual form of Plasmodium. The gametocytes are picked up by a mosquito that bites an infected person and undergo a sexual reproduction cycle in the mosquito, producing more sporozoites. The cycle begins again when another human is bitten.
Applications
Description
Hepatocyte Formats
Recommended Catalog Numbers
Hepatitis infection model
A process in which primary human hepatocytes are infected with the hepatitis virus for drug screening or biomarker discovery/development
Highest quality plated monolayer cultures
3D cultures/Spheroids
Co-Cultures
Malaria parasite infection model
A process in which primary human hepatocytes are infected with Plasmodium falciparium varieties for drug screening or biomarker discovery/development
Highest quality plated monolayer cultures
3D cultures/Spheroids
Co-Cultures
Non-alcoholic steatohepatitis (NASH) models
Steatosis can be induced in hepatocytes using a variety of small molecule or nutrient inducers.
Highest quality plated monolayer cultures
3D cultures/Spheroids
Co-Cultures
Diabetes models
Hepatocytes respond to insulin by altering their glucose and fat metabolism. Various assays to induce lipogenesis and gluconeogenesis in hepatocytes are used.
Highest quality plated monolayer cultures
3D cultures/Spheroids Co-Cultures
Application - 3D and Complex Cell Culture Models
Getting Started with Hepatocytes in 3D: Verified for SpheroidsTM Human Hepatocytes
Studies have shown that the formation of multicellular hepatocyte spheroids in 3D culture is a promising approach for enhancing liver-specific functions. Hepatocytes cultured in spheroids exhibit polarized cell structures and direct cell-cell contact, and importantly, can maintain steady metabolic function for more than 14 days. This approach also enables the self-assembly of multiple liver cell types, creating a pseudo microtissue that better mimics the in vivo hepatocyte environment.
We now test each batch of our General Purpose and Interaction Qualified hepatocytes (HUCPG and HUCPI) for capacity to self assemble into spheroid structures for use in longer-term toxicity, metabolism, and disease modeling applications. Refer to our White Paper and Technical Note for detailed evaluations and protocols to incorporate spheroids into your routine cultures
Request More Info
Application - CYP Phenotyping
Drug-drug interactions can have a significant impact on drug efficacy and patient safety. As such, regulators have made the prediction of drug-drug interactions a requisite in the development of new drug candidates, which has to be supplied as part of the submission of the registration dossier. In vitro identification and measurement of the contribution of major cytochrome P450 enzymes involved in human metabolism of a new drug candidate (CYP phenotyping), helps predict the impact of co-administered drugs on the pharmacokinetics of the new chemical entity.
Traditionally, these studies were conducted using one of three approaches – correlation analysis, antibody or chemical inhibition, and metabolism by recombinant human enzymes. However, each of these approaches has advantages and disadvantages, which is why a combination is recommended by the FDA and EMA to reliably identify the CYPs involved in the metabolism of a compound. For example, correlation analysis doesn't provide any quantitative measurement of the contribution of each CYP to the metabolism of a drug, while models of recombinant CYP450 enzymes are not fully representative of the complete liver enzyme profile. Additionally, many chemical and antibody inhibitors actually lack sufficient specificity, resulting in little confidence in the results obtained.
To help you overcome these challenges, we provide SilensomesTM HLM. SilensomesTM are validated human-pooled liver microsomes (HLMs) that are chemically and irreversibly inactivated for one specific CYP using mechanism-based inhibitors. SilensomesTM HLM provide you with a simplified, fully characterized pre-made solution that is ready for CYP phenotyping, resulting in more consistent and reliable results.
For more information on the use of SilensomesTM HLM, including case studies, visit our product page.
Contact an Expert
CYP3A4 activity is specifically and extensively inhibited in CYP3A4-SilensomesTM
CYP3A4 mediated metabolism of testosterone, a pure CYP3A4substrate, was totally inhibited. More than 80% of CYP3A4-mediated metabolism of nifedipine and midazolam was inhibited.